Download
To install WebODM you have two choices: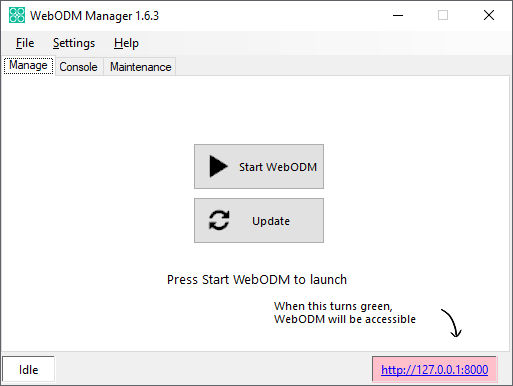 – "It works pretty seamlessly."
– "OUTSTANDING!!!! Thank you very much, that worked perfect!!! I'm super excited to start learning the program now."
– "Ran 2 small models without a glitch and now running a bigger one. No more 127 and the manager just works"
– "I just purchased the standard installer and everything works well."
Standard

One-time purchase

WebODM Installer
Installer Documentation + Troubleshooting Guide
1 Year Installation Support
30 Days Money-Back Guarantee

---
Business

One-time purchase

WebODM Installer
Installer Documentation + Troubleshooting Guide
1 Year Priority Installation Support

(24 hours response)

30 Days Money-Back Guarantee

---
Installers are sold by MasseranoLabs LLC. The Website may contain links to other websites and resources provided by third parties. These links are provided for your convenience only. We have no control over the contents of those websites or resources, and accept no responsibility for them or for any loss or damage that may arise from your use of them. If you decide to access any of the third-party websites linked to this Website, you do so entirely at your own risk and subject to the terms and conditions of use for, and the policies (including privacy policies) of, such websites.
Support is for the WebODM Manager application, not WebODM itself – but – we do have an awesome forum for WebODM questions. Also check our services page for information on enterprise support and development services.
Our money-back guarantee covers the installation process. If you can't install WebODM and support is unable to help, we will refund your money.
Installers work on Windows 7 or higher and macOS El Capitan 10.11 or higher. Check if your computer meets the minimum system requirements before purchasing.
An invoice will be remitted after purchase.
Frequently Asked Questions
Do you offer a free trial?
We currently do not offer free trials of the installers. WebODM is open source software. If you want to try it without making a purchase, an option is to install it manually.
Can WebODM process my dataset?
In general, if your images are JPEGs, come from a stock drone and your computer is powerful enough, yes. The ability of WebODM to process a dataset relies mostly on the availability of sufficient memory to complete the task. If you have a recommended amount of RAM (see the system requirements below) you should be able to easily process at least 100-300 images. Many factors currently influence the memory requirements and we're working to get better benchmarks data available. If your computer is not very powerful, you can also process up to 5,000 images in the cloud. See the lightning page for more information.
What does installation support cover?
We will do everything we can to help you get WebODM up and running. If you encounter any issue while installing WebODM, we have you covered! However, questions about processing datasets, configuring WebODM, how to achieve XYZ, etc. are not part of our support offer. We have a very active community forum for those questions at https://community.opendronemap.org/c/webodm (and to which people from our support participate). By keeping such discussions open and public we can build a shared database of knowledge and allow users to help each other in the usage of the software.
Minimum System Requirements
For Windows
Windows 7 or newer (Windows 8 and Windows 10 are supported)
64bit CPU with MMX, SSE, SSE2, SSE3 and SSSE3 instruction set support or higher (was your CPU manufactured in the last 8 years?)
VT-X support (most computers do, but cloud providers such as Azure do not)
20 GB free disk space
4 GB RAM *
For macOS
macOS El Capitan 10.11 or newer.
Mac hardware must be a 2010 or newer model and support Intel virtualization.
20 GB free disk space
4 GB RAM *
(*) You will not be able to process more than 100 images with 4 GB of RAM. If you need to process larger datasets, check the Recommended System Requirements instead, or consider purchasing access to our 
lightning network
.
WebODM installers do not work on 32bit computers.
Recommended System Requirements
Same as minimum requirements, but add more space and memory:
100 GB free disk space
16 GB RAM