Server Installer
Install WebODM on your own cloud server without docker.
Here's how it works:
1
Create an Ubuntu 16.04 instance on your favorite cloud provider such as Amazon AWS, Azure or Digital Ocean.
2
Log-in to SSH, execute our installer script and relax. The script installs all dependencies, compiles all programs and sets up all services for you.
3
Success! Start processing images on your cloud server at native speed (not using docker).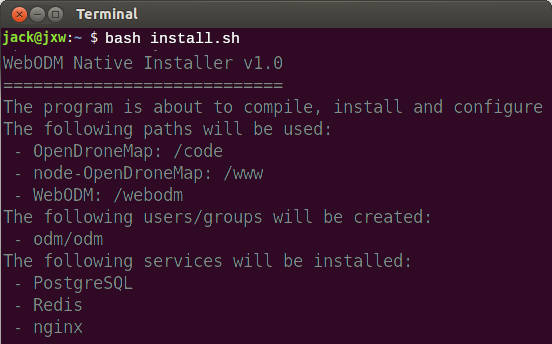 Installers are sold by MasseranoLabs LLC. The Website may contain links to other websites and resources provided by third parties. These links are provided for your convenience only. We have no control over the contents of those websites or resources, and accept no responsibility for them or for any loss or damage that may arise from your use of them. If you decide to access any of the third-party websites linked to this Website, you do so entirely at your own risk and subject to the terms and conditions of use for, and the policies (including privacy policies) of, such websites.
Support is for the installation process only (if the installation fails, we will help you troubleshoot it). For updates, maintenance and other issues, check our forum or purchase a premium support package.
Our money-back guarantee covers the installation process. If you can't install WebODM and support is unable to help, we will refund your money.
The script works on a fresh installation of Ubuntu 16.04 only. We do not support other versions of Ubuntu or Linux. Check if your computer meets the minimum system requirements before purchasing.
An invoice will be remitted after purchase.
Minimum System Requirements
For Windows
Ubuntu 16.04 LTS
64bit CPU
20 GB free disk space
4 GB RAM *
(*) You will not be able to process more than 100 images with 4 GB of RAM. If you need to process larger datasets, check the Recommended System Requirements instead, or consider purchasing access to our 
lightning network
.
Recommended System Requirements
Same as minimum requirements, but add more space and memory:
100 GB free disk space
16 GB RAM